River 8 1/2 months- IL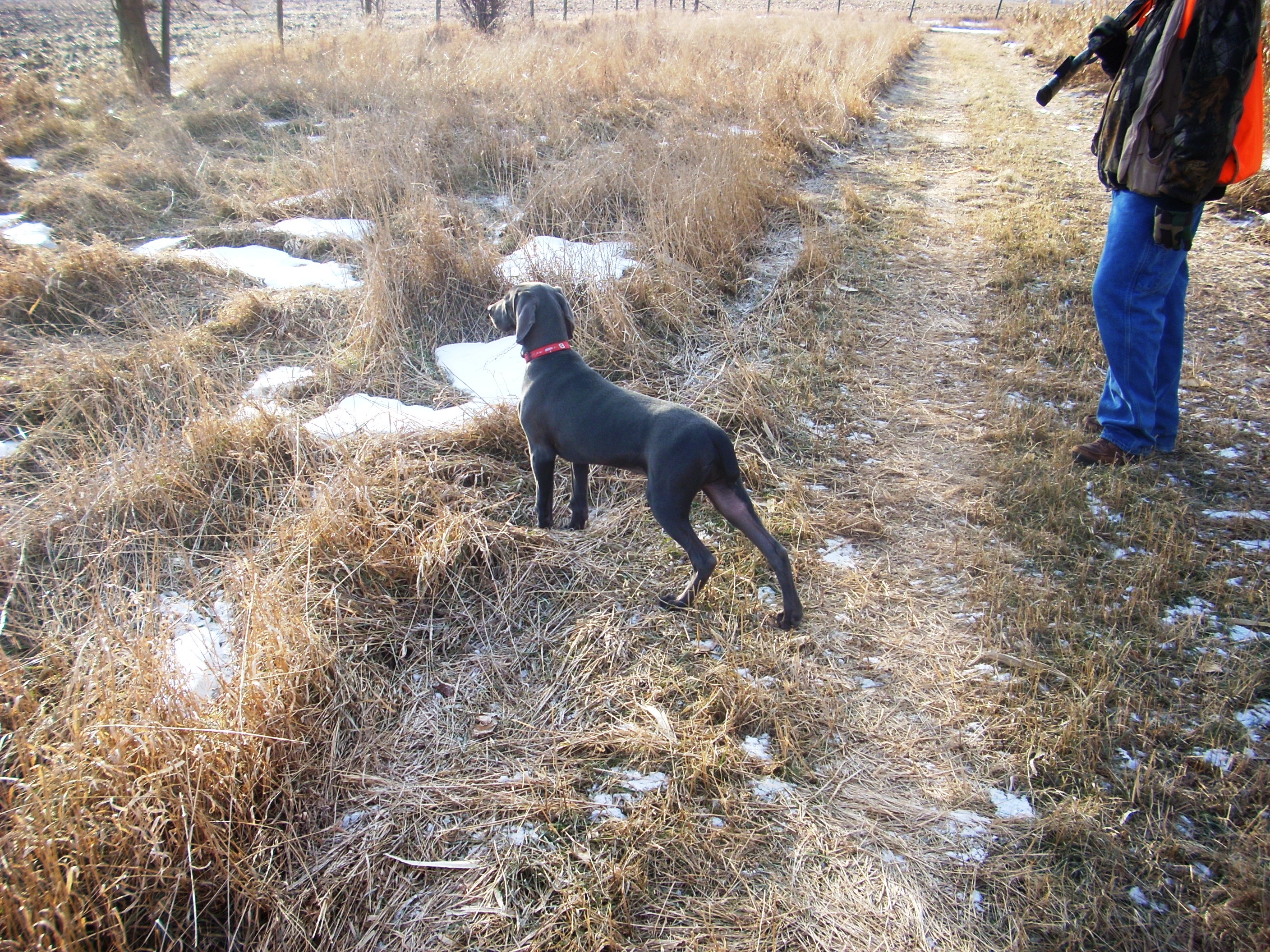 Hello Doni
We just want to give you an update on River. He is 8 1/2 mo old and is 62 lbs already. He is a great dog and learns very quickly. I had him out hunting this past fall/winter and he did just excellent. He was a little weary of the birds when started to train him at home but when i got him out in the field it was like his instinct turned on. He followed his brother everywhere in the field and kept up the whole hunt and to my surprise the second time out in the field he chased down a wounded bird and held it in place. Then the last two birds i shot he went and retrieved them back to me! (at only 3-4 mo old) Later that season he started pointing some birds also. He loves to play fetch with the Frisbee and has a great nose. Everyone that meets him says he is a great looking dog. He is a very jealous dog and always has to be a the center of attention. I have attached some pics of him and his brother for you. Good luck with all your litters and shows

Best of wishes
Mike Steph River and Sterling
Drehbar's King of he Fields aka Cooper Naranjo
A blue Long hair weimaraner
Doni,
Thanks so much for entrusting me with Cooper (King) he truly has filled the void in my life :)
Candi

We believe in reputation and strive to provide our puppies with the best possible homes - Here are a few pictures and comments from past puppy purchasers.


Doni,

I hope you are able to open these pictures of our Maggie. She is now 5 months young. She is now 31 pounds and has a great deal of "spark" in her. She just loves our house and friends. A day doesn't go buy that we don't get a compliment about her coat and good looks. We take her to the dog park twice a day and let her loose. She loves socializing with the other dogs.

Even the vet, who I am certain sees a lot of animals, admires her good looks. We took her to puppy school. She graduated in March, 09 and now goes to the next level of training. She loves her crate. We leave the door open and she goes in there whenever she wishes. She finds it as her place to have privacy and to rest. Since it is still cold in Milwaukee, she enjoys sitting in front of the fireplace.

I was referred to you by a good friend, Jasin, and I certainly recommend you to anyone thinking of purchasing a new member of the family.

Thanks again, and I'll keep you posted.

Jerry
Greynie - Orlando FL
He's big & Beautiful - Thank you Martha
Zoe - Rena X Duke pup from 07
Jason - New Jersey
Doni,
I just wanted to send you a quick email to tell you how Zoe is doing. Zoe is doing great. I put her in daycare. She loves it. She is very tired at the end of the day. Which is a very good thing. Well I just wanted to let you know she is doing well. I sent you some pics of her. They were taken the other day. She has grown up a little since you put her in my arms at the airport. Well I hope toy are doing well to. Talk to you soon.
Jason & Zoe
I (like the proud mother that I am) wanted to send you some updated pictures of Wrigley (some of my favorites)! things have been going really well, you would be proud too! she has completed three weeks of kinder-puppy classes, and will be enrolled in the adult classes by Sept. she is all updated on her boosters, and today when we were at the vet she weighed 20lbs! she is eating really well, is completely house-trained, and knows all of the basic commands really well (and perhaps knows roll-over a little too well bc she does it everytime she sees we have a treat!). (8-26-08)
Buddy & the Supermodel
South Beach, Florida

Hi Doni,

Here are the german supermodel pics that were taken with Buddy on South Beach.

These are good for your website.

Henry

Miss Isabelle, the Princess of East Jordan, is lounging with her toys close by for easy access. Our "pack" has formed a strong bond already and we couldn't be happier with her. Thank you so much. We'll send more pictures to let you know how she's doing.

Kathy and Bob
Doni,
I see that almost all of your new puppies are sold! That's great! Harold and I are having a blast with our new baby! She has gotten so big in three weeks. The potty training is up and down. ShyAnne recognizes her name and likes her new home. She stays with us when we go for walks, but runs when she hears loud noises like the geese taking off and landing in the pond!
I have also sent a few pictures for you to see and enjoy! She is one spoiled puppy.
Mardelle & Harold
Doni, this is Gunner's first bird. He's been a great puppy and we are very grateful to you for giving us the perfect pet. Bruce & Kathy

 
Doni -

I hope all is well with you.

This is long overdue, but I wanted to give you an update on Otto. Despite a trying first month, he has settled in great! He seems to love Boston, is a pretty mellow guy and is simply beautiful. Now that he's five months old, I'm finally able to walk down the street without being stopped every 20 feet. Otto is the only Blue Weimaraner that I or anyone else I've bumped into has ever seen, and, as a result, is often the talk of the town!
Well, Otto is a VERY BIG boy, which is quite funny, since I wanted a
smallish one. He must be 40 lbs already and looks like he has a bunch of growing still to do....but he is just so damn cute. People constantly stop and marvel at his pretty face - I'm trying not to get a complex over it all!

Dana

Sadie - Northern Michigan
Just wanted to say Hi and send some pictures of our little Sadie. She is doing great and house breaking is getting even better. We are working on the bell on the door as well.
Milo - 11-08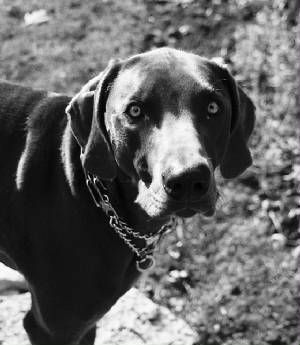 A GREAT DOG - Thanks Jasin
Doni,

He is a wonderful friend, running companion, and my condo association loves him!
Jasin
Some cute shots from today's photo shoot. Chloe is so funny, she loves the camera . . . seems to almost perform, striking poses and flipping her long ears around when the camera comes out . . . must have been a supermodel in a past life haha!

:) Rachel
BREEDERS NOTE; THIS IS THE PUP THAT WEIGHED JUST 3 OZ AT BIRTH!
"ROOKIE"
Three Months Old
Hi Donelle
Just thought we would say hello and send a few pics. Rookie is doing awesome. She is really smart. We are spending a week down in Phoenix with grandma, where Rookie is showered with extra attention. My whole family is in love with her. Flagstaff is not that big of town so it didnt take long for her to get everybody wrapped around her little paw. The post office, the video store, the grocery store,the bank,everybody waits for our weekly visit. She is fully house trained and the other stuff, sit, stay, and all that is going spectacular also. I just love her. We wish you and your family (and all the
new puppies) a Happy Easter. Talk to you soon
Lori

"Scuffy" - Kalamazoo, Michigan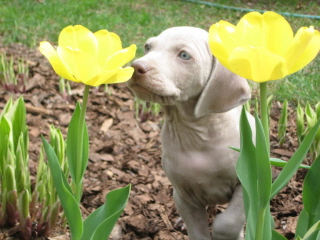 Hello - Doni,
We wish to Thank you for the opportunity to own our puppy.
Our daughter suggested "Scuffy" as her name. It is quite unusual name for us and still thinking about it.
Gunnar-Indiana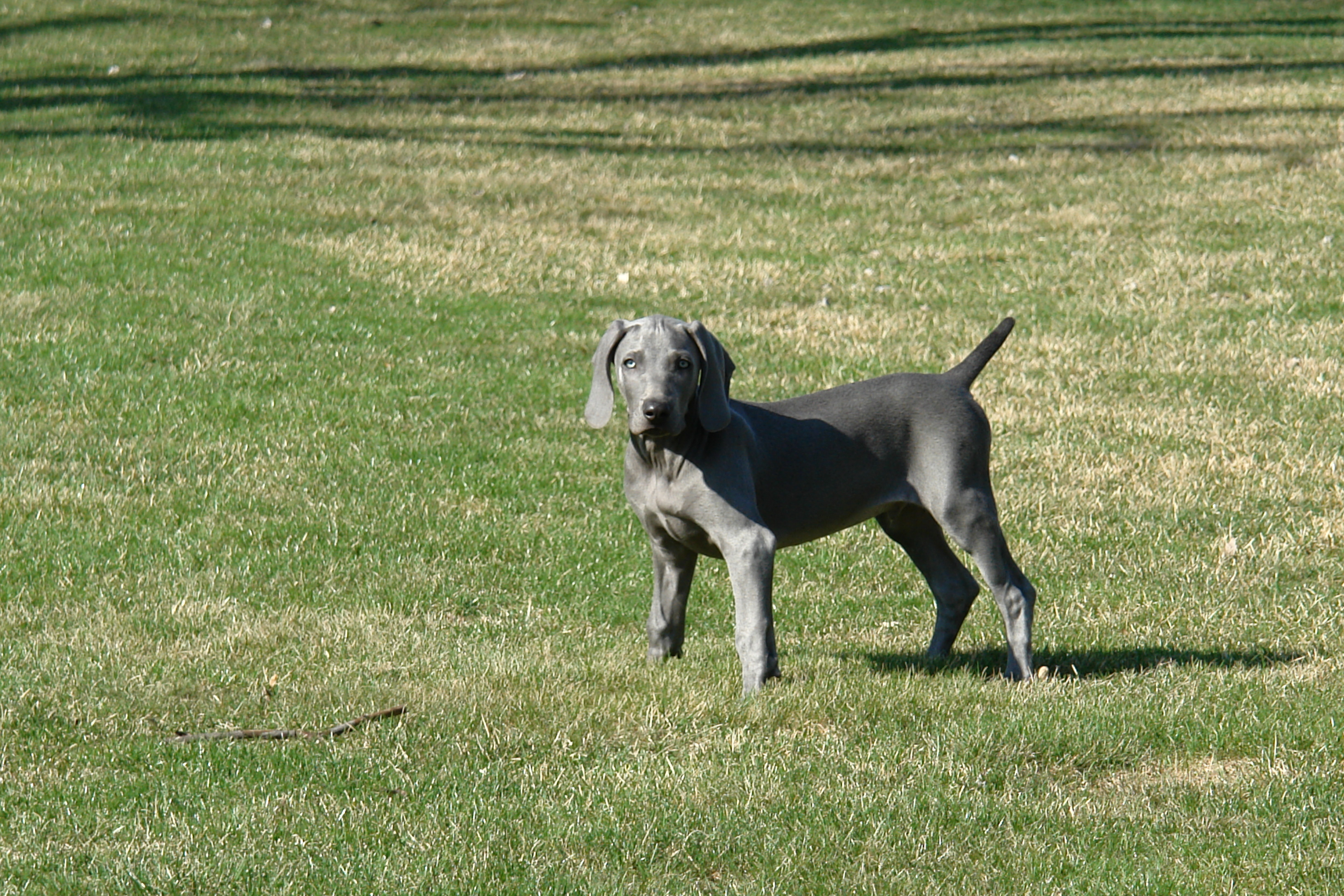 Hi Donelle,

Attached are a couple of pictures of Gunnar. He is now 13 weeks old and is just a ton of fun. We enjoy him so much. He has the run of the house and the yard and is having a great time. Every day is an adventure with him. He seems to grow an inch a day and gets smarter everday, maybe alittle to smart.

I hope you enjoy the pictures and when it gets warmer and the sun is out longer I will send some more.

Thank you for our friend

Cheryl
Drehbar's Baroness Beatrix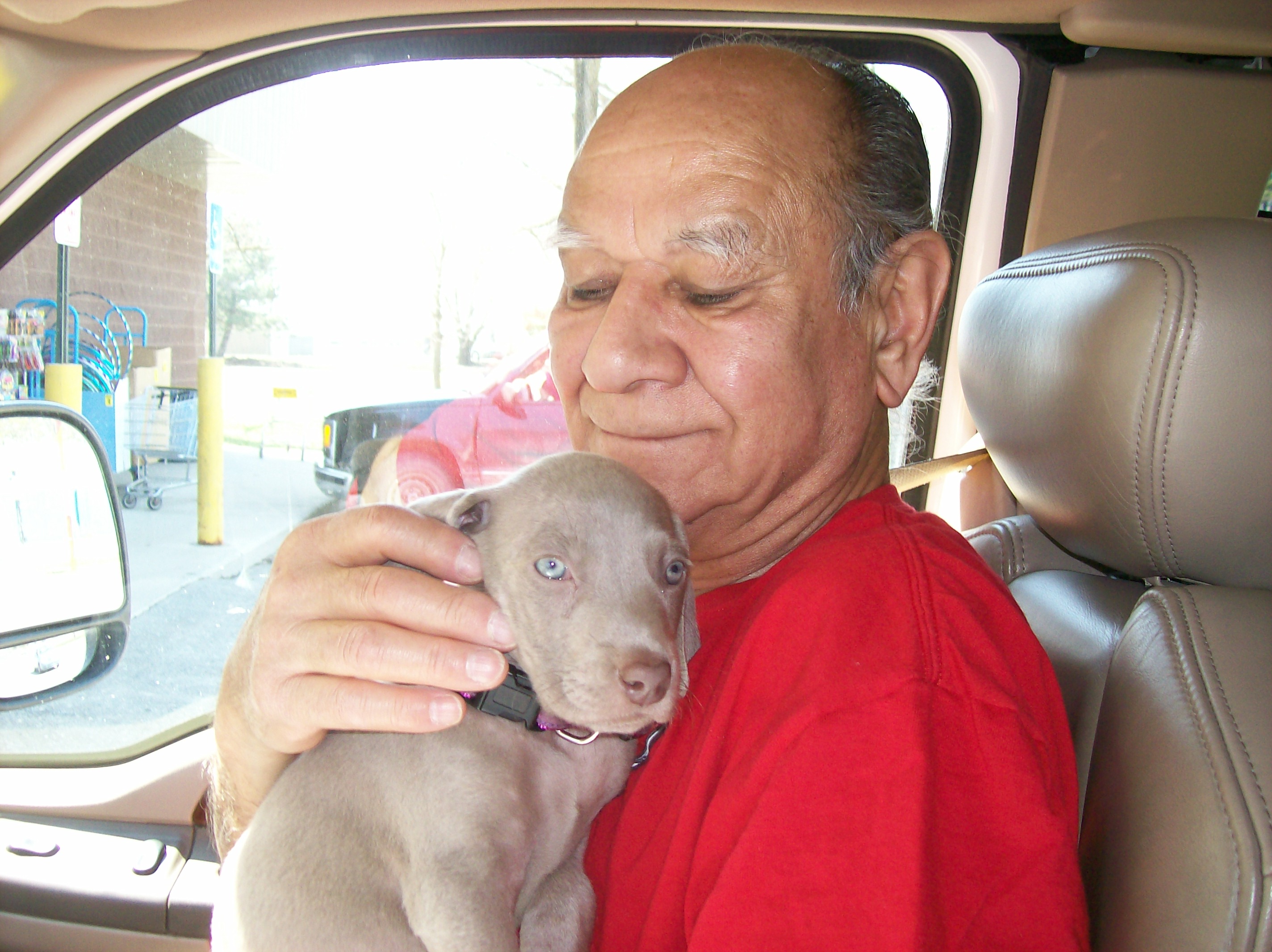 This picture is one of dad when we stopped at a store to get Bea a toy because she was biting everyone fingers! (see, doesnt he look happy? i told him the dog would make him happy!)
Audrey
| | |
| --- | --- |
| Canyon | Here is a pic of the pup I got from you. I named him Canyon. He is the best dog I ever had. He sleeps with my girlfriend and I every night and we love hime to death. Thanks so much, Jarrod York, PA |
| | "Our, boys love her to death and she is Getting very spoiled" |
 

Hi Donelle!
We get so excited with the new experiences that we have with Willow .... we
just love to share!!! Last night we went on a hike up in the mountains....the
sun set before we knew it and the darkness crept into the woods. Willow, with
her great sniffer, brought us down the mountain (about 1 1/2 miles), in the
pitch black, right back to the truck. What a great dog and as you can see
she's a real love too :) !
Warmest regards,
Brian and Aurel seaduckmowing@adelphia.net
Zeke the GIant Puppy
I just wanted to send you a few pics of Zeke all grown up. He is a wonderful dog and a great friend.
Grayc - NJ
Lives with Chris & Melanie
Hi Doni,
The little girl is doing great! She has a very sweet disposition! We named her Grayc (pronounced the same as Gracie!). Ready, our Viszla, plays with here great and she is slowly warming up to her. In the beginning she wouldn't lay on the same couch with her - maybe a little jealous - now they lay only a few inches apart. Grayc is good with our son as well. A few cute pictures are attached.
Melanie