Baroness Beatrix who is an Ally X Duke pup that is just shy of her 1st brithday, took best in breed and best in show with her junior handler Audrey! They will be competing again in December and we can't wait to see these guys again! I am so proud of both Audrey for her hard work she put into showing and Bea for her love of Audrey - way to go girls - See Pics below - Can anyone say future champion? Update Audrey did it! CH Drehbar's Baroness Beatrix - will compete in 2010 for her GRCH title with UKC and her CH title with AKC
Audrey & Bea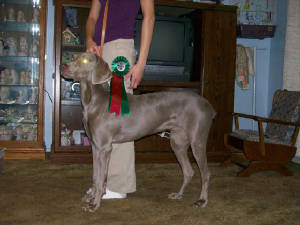 Showing is FUN!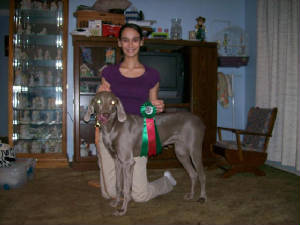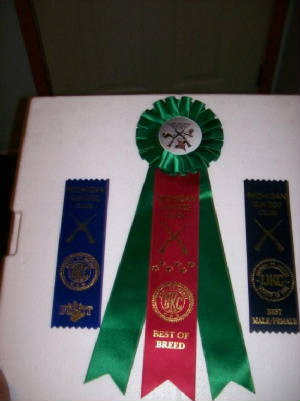 Hi Doni,
We want to wish you and your family a Merry Christmas and a Blessed New Year.
We are doing good hoping to get Bea and Audrey into at least one show a month. Tom and I have to sit down with the schedules. We are going to do AKC and UKC. I think I am going to do a Canine Good Citizen Odencience class with Bea. Audrey is doing good with her but I think she needs more obedience work and with show class and school I don't want to overload Audrey.
Audrey has really surpassed what we thought she would do with Bea. The two of them do complament each other. Both are sponges sucking up each others love and attention.
Again happy holidays.
Judy, Tom, Audrey and The Baroness Beatrix
Drehbar's Ally is a winner took 4th in the Southern Michigan Weim Club Derby held this weekend in Ionia 10-4-08 - We are proud of her for her first time out in competition. Way to go Girl! We will post some pics from her upcoming run schedule for next weekend. Stay tuned for more results on Ally's Progress.
Below are a few pics from Ally's Derby run this weekend. October 18th - I attended the Feild trial and Rode a horse for the first time since my injury 4 years ago. Needless to say my first trial cured me of my fears and with the help of my old horse buds I have made arrangements to bring my new horse "Dirty White Boy" home this week! I will try to better on the pictures next time but shooting from the back of a horse was a whole new concept for me!
Ally on Point 10-18-08 Ionia Field Trial Grounds
Dan DiMambro and Ally 10-18-08