Hi Donnie:
Just wanted to let you know Milo is doing well. He is a very very energetic boy who loves to play. I was suprised my Yorkie (who is half his size) took well to him and although they get into a couple of rumbles a day they seem to be getting along well. I will send you pictures very soon.
Thanks for such a wonderful pup!
Grace
Hi Doni,
I wanted to write and let you know how our Maggie is doing. She is almost ten months old now. She has a sweet face and those wonderful weim pale amber eyes, and velvet ears. Her blue coat has a beautiful, healthy shine. It's fun when people confuse what breed she is due to her color. She has a sweet disposition and loves attention. I call her my Velcro dog 'cause she loves to stick close to me. She has boundless energy and loves to fetch balls and catch a Frisbee. Understandably, she still has a lot of puppy in her, and gets herself in trouble. Last week I made cinnamon rolls to take to a brunch. I pushed them way back on the counter to cool and went upstairs to get ready to go. When I got back down she was polishing off the seventh one. Remarkably she didn't get sick. My husband is looking forward to starting her training for hunting this summer. In the meantime she holds a beautiful point for robins and squirrels in the back yard.
Thanks Doni for breeding such a great dog. We love her.
Ginny and Jim
SHADOW 6 MONTH UPDATE
Shadow - Showing a True Weim Personality!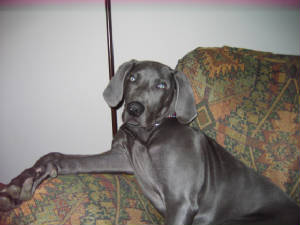 Hi Doni,
I hope all is well with you. Shadow and I are getting along very well. He graduated from obedience school with
flying colors last week. The handler told me that if you were to take 20 Weims of the same age as Shadow, maybe
one or two would do as well as he did. I was very proud of him and love him very much. I am sending some
recent pics. Ray
Hi Doni,
I hope you had an enjoyable and productive visit to Germany.
Shadow is growing up fast. He is a great companion and friend already. He is loved by all family members,
their dogs, friends and even strangers. I can't thank you enough for selecting him for me. He is perfect.
I am attaching some recent photos. We begin obedience training in two weeks. Ray

Doni, Thank you so much for my Ziva. She is my pride and joy. I know a dog like this only comes from the best breeder :). I know coming home in the morning after a hard day in the hospital and seeing her cute face and snuggling with her, makes coming home that much better. There isn't a day that goes by that I don't get compliments on how gorgeous she is. Since getting Ziva from you I have been interconnected with other Weim owners and it has been great getting to know new people. I know in the future she will be our Champion Drehbar's Ziva the Diva!
Winnie with one of her kids!