Wrigley Dea X Duke Pup 2008
Hi Doni,
How are you? It has been quite a while since I have last written you but I wanted to update on the happenings of our family and ask you a quick question.
Since I last wrote you last winter, Craig and I have had a baby!!! We had our baby girl Amelia Jane this past November and I cant tell you how good Wrigley is with her. I was nervous at first to introduce someone else into our pack bc wrigley has been the center of attention for so long, but from the time I started showing, she has been the greatest and would always be so careful around me, and even felt the baby kick a few times when she would lay her head on my stomach. When we brought Amelia home, Wrigley was always getting up every time I had to get up with the baby to feed, which took a toll on her, but also made her quite tired during the day....haha! Wrigley really loves bath time with the baby bc its her chance to lick the babies feet when there is lotion on them...she has also been very patient with waiting her turn for food, and going outside, and our trust has grown so much...there was even a time when Craig and I had to go to the hospital for a false alarm, and when we had come from we realized that craig had not latched her crate correctly, and Wrigley had had the whole house to herself for about 3 hours!!! Luckily, nothing was touched and Wrigley was just really excited to see us!
I had a quick question for you regarding a skin irritation that Wrigley has had since about November....It is only around the ears, and whatever else of the rash that appeared in other areas, has disappeared with antibacterial medication....her ears are really red and bumpy and they are really itchy for her. I wasnt sure if weims have any specific allergies or can contract specific skin irritations but she has to have a biopsy from her ear to see if there is something the veterinarian can find. So far we have ruled out food allergies, or stress-related irritations, but I thought I would ask you if you knew of anything else the vet can check when I bring her in next...thanks so much!
Wishing you a wonderful New Year and speak to you soon,
Stephanie, Craig, Amelia and Wrigley Borho :)
Breeder Notes: Wrigley is a 2007 Puppy
Nevaeh - Nebraska Ally X Grouse Pup 2009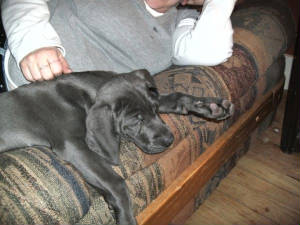 Doni,
This is Amber I wanted to send you this e-mail and let you know how HAPPY I am with our new baby! Nevaeh is so beautiful and full of spirit! I thank you so much for this gift. Its funny how Nick made me search around looking at other wiems, I kept telling him though that Drehbar was the one for our family! I do understand why Nick was wanting full papers, but to me it wouldn't have mattered one bit. They say you get what you pay for when it comes to quality, I think I got the better deal and thank you very much! Nevaeh came right to momma with no worries at all, I carried her in to meet Dutch and it was an instant Love between them both, I couldn't be happier. I wanted to let you know how much I adore Nevaeh and her awesome breath, lol. It will be nice here tomorrow and I am so glad for the weekend to spend more time with our babies. Nick and I have already gone baby shopping and we look forward to playing fetch in the yard, we even found a little training dummy, its so small compared to Dutch's, Dutch giants over Nevaeh, truly adorable! Oh yeah and before I forget to tell you our Love and bonding might have started with e-mail pictures but Nevaeh has no chance of returning my love is already to great! Well I feel like I've wrote you a babbling book and that we have know each other for years so I will close this for now and write you again soon and send new pictures. Thanks again Doni for Blessing our family with Nevaeh, sorry no returns or exchanges Nevaeh is ours to keep:)
Talk to you soon,
Amber

Greta Star X Duke Puppy 2009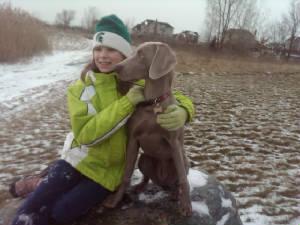 Hi Doni!
Hope you are doing well! Thought I'd drop a quick note to let you know how Greta is doing—she is great! I've attached a recent photo.
She really is a sweetheart, and beautiful too-everyone just loves her. Everything we heard from you and other research about the breed is definitely true-she has endless energy, and is always looking for something to occupy her time-We've had some trying times-she is very prone to mischief, but other than a pair of slippers, a couple boxes worth of Kleenex, and countless food thefts from the kitchen counter, we have remained relatively damage free! We took her through an obedience class in December and she was great-the best dog in the class if I do say so myself-I am amazed at what an athlete she is becoming-she can run forever. This past weekend I took her and my 3 kids on a hike on some remote state land (highland rec area, maybe you know it as they do lots of field trials there)-she is great off leash-our hike was maybe 3miles/2 hours, but I think she did at least 10 miles, and was still wanting more at the end-she just loves it and seems to have a smile on her face the whole time-
I just today saw information on what appears to be a big dog show in our area (Novi) this weekend- www.oaklandcountykennelclub.com Curious if you or any of your "extended family" are participating? It appears to be too late for us, although they have "Good Citizen" tests that I thought we may try.
Anyway, thank you again for this wonderful addition to our family-rest assured that she will be very well loved for a long time.. J
Take care,
Dan Caterina
Asher Loves Twister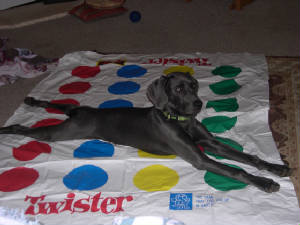 Hello there,
Asher is over 40 pounds and still giving us lots of laughter and cuddles. He also likes to play Twister.
ZoŽ wants to bring him back to Evart for his 1st birthday.
Happy Holidays
j.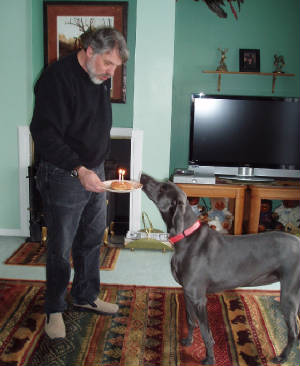 Doni,
I hope your doing well! Harold and I love ShyAnne and thought you might like an update. She turned two today and she is still adorable! It is hard to believe that we have had her for two years. She is thriving and doing great! We take her for long walk on our property and she loves the snow!
Thank you for all the love and care you give your weims. We love weims and we will always own a weim from now on! You are the breeder we will come to for all future dogs.
Take care and here is a picture of ShyAnne at 2 years old.
Mardelle & Harold